Vikings Miracle Play – Divisional Championship
Video of the play | Game Statistics
This happened last week, but I finally took a close look at it today and decided to compile what I found.
This play was Zionist mockery of Jesus Christ. Does that sound ridiculous? It should. Because these leagues are ridiculing its audience, the majority of whom in America define as Christians or Catholics.
---
Stefon Diggs' touchdown went for 61 yards.

As a result of the win, the Vikings would go on to play the NFC Championship game in Philadelphia against the Eagles.

Philadelphia gets its name from the book of Revelation, where it is one of seven churches.

At church, most worshipers pray to Jesus.

---

43 is the 14th prime. It was #43 who whiffed the tackle on #14.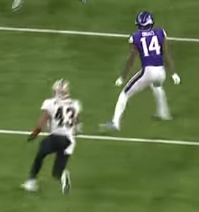 The play gave the Vikings 403 total yards of offense, who also committed 4 penalties for 30 yards.

Stefon Diggs was drafted 146th in the 2015 draft.
His full name is:


The second coming of Christ is mentioned 318 times in the New Testament. The 61-yard pass play to end the game gave the Vikings 318 passing yards.
---
The touchdown scored the 53rd and final point of the game.

New Orleans had 5.3 yards per play.
Both teams combined to run the ball 53 times.

It was 316 days until Diggs' 25th birthday.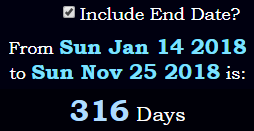 ---
Jesus died at age 33. See this slide showing how 33 relates to sacrifice.
Each team averaged 3.3 yards per rush.
The Vikings held the ball for 33 minutes.
The 33rd prime number is 137.

After the play, he had 137 yards receiving for the game.
Without master number exceptions:


101 is the 26th prime number.

---
Football is a game of 11-on-11. There are 22 men on the field at all times.

The 22nd prime number is 79.

"Stefon" = 29 / 83 (Reverse Full Reduction / Ordinal)
"Football" = 29 / 83 (Full Reduction / Ordinal)
---
The statistics were coded with more numbers of time. Enneadecaeteris is the Greek word for the Metonic cycle, which is a common multiple of 235 synodic months and 19 solar years. 235+19 = 254. "Time" = 254 (English Extended)
Drew Brees was 25-41 passing. Case Keenum was 25-40.
"Enneadecaeteris" = 65 (Full Reduction)
The Saints had 6.5 yards per pass.
It also stuck out to me that up until the final play, the score of the game read 24-23 on the screen. 2423 is the 360th prime number, the number of degrees in a circle. This is significant in regards to the two Great American total solar eclipses. In fact, you may have heard Joe Buck say the word "eclipse" shortly before the Miracle play. He knows there's 2423 days between them.
To cement this as no coincidence, Minnesota had 24 first downs. The Saints had 23.