Alex Trebek's Brain Surgery
CNN reported today that Alex Trebek has been unable to tape any episodes of Jeopardy over the holidays. Apparently, he had a bad fall in October that caused some blood clots he had to have taken care of. I personally didn't know falls led to blood clots…but I'm obviously no doctor.
According to this CNN article, Trebek had "brain surgery."


As of this story, Trebek is 167 days after his 77th birthday.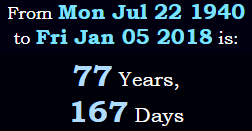 "Brain surgery" = 77 (Reverse Full Reduction)
Multiplying the digits in today's date gives us 40. This number ties Trebek to the show.

"Alex Trebek" = 40 (Full Reduction)
He was born in '40
"Jeopardy" = 40 (Full Reduction)
"Circle" = 40 (Reverse Full Reduction)
"Forty" = 84 (English Ordinal)
Trebek began hosting Jeopardy in '84
"Brain" = 44 (English Ordinal)