Former Buccaneers WR Mike Williams Errantly Reported Dead

This "report" turned out to be wrong. Mike Williams had not died.

---
Skull and Bones
There are some remarkable numerical alignments that occurred on September 5th that suggest this may have been something more than a mistake.
Williams was reported dead at age 

36
36 years after the first-ever Super Bowl, the Buccaneers played the Raiders in Super Bowl XXXVII. This story is doubtlessly connected.


As you can tell by their logos, this game was the "Skull and Bones Bowl". The secret society from Yale that goes by this name was founded in 1832:


See my recent post that explores the numerical connections Tom Brady has to the Buccaneers through the Skull and Bones code.
---
The death from an Accident was falsely reported in connection with Skull and Bones on the 5th of September, or 5/9.

In Ordinal, Skull and Bones has matching 149 gematria with Michael Williams.


Super Bowl 37 was also called the Pirate Bowl, or the Gruden Bowl.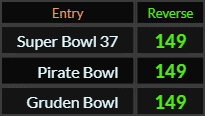 The MVP of the game was Buccaneers safety Dexter Jackson.

Jon Gruden left the Buccaneers for a commentating role before returning to the Raiders, a job he resigned from in 2021. Legendary commentator John Madden, who died shortly after that resignation, also coached the Raiders.


1409

is the 223rd Prime number
---
223 / 322
Skull and Bones has seemingly been the topic of about half my posts this year. Yale University turns 322 years old in 2023: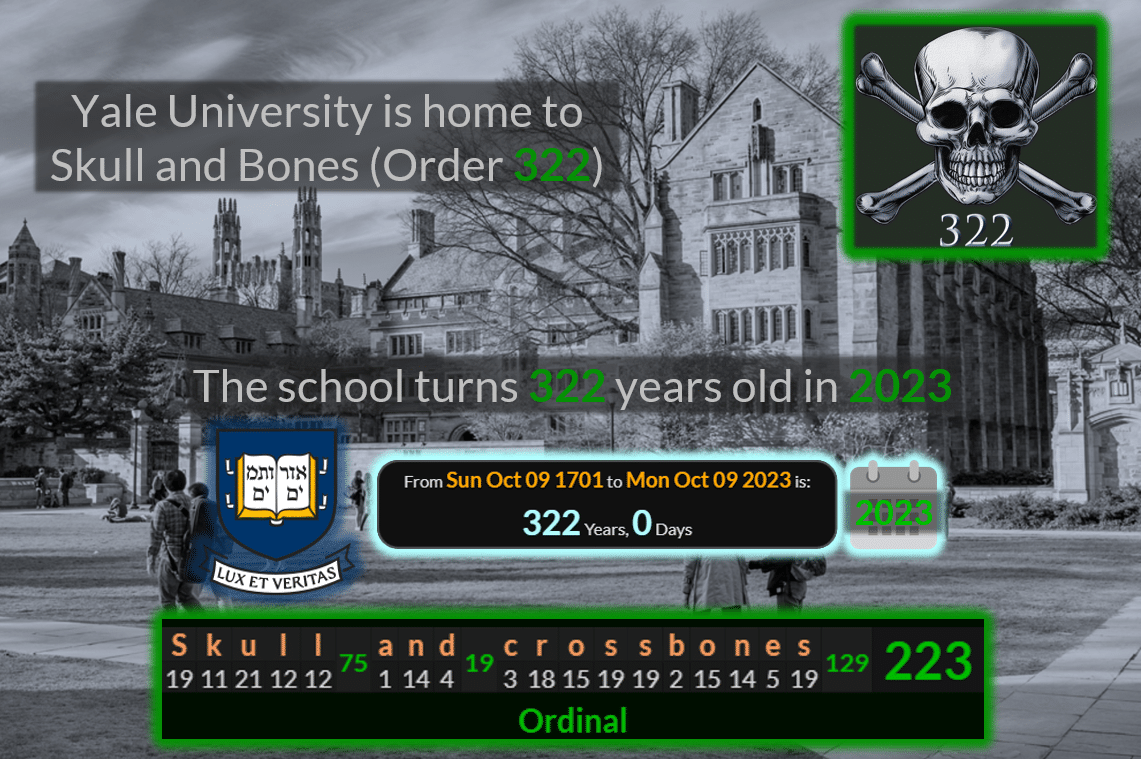 The Skull and Bones Bowl was held at Qualcomm Stadium.

It was Super Bowl 37. Mike Williams turns 37 years old a span of 223 days after Yale's 322nd anniversary in 2023:


In 2021, barely one week after the Tampa Bay Buccaneers won their second championship in Super Bowl LVI, former Bucs wide receiver Vincent Jackson passed away. I immediately though of V-Jax when I read about Mike Williams because I was an ardent Fantasy Football player in the early-mid-2010's, when both of these players had value.

In November of 2021, the Raiders' Henry Ruggs, who is also a wide receiver, got in a fatal car wreck that killed an innocent driver. See my video on the numerology of that event.



---
Super Bowl LVIII
The Skull and Bones bowl was in San Diego, where Vincent Jackson began his NFL career.


Super Bowl LVIII, which ends the 2023 NFL season, will be hosted by the Las Vegas Raiders.



---
Tampa Bay Buccaneers shares 62 Reduction gematria with Buccaneers.



The halftime show at Super Bowl LV, the only other Super Bowl the Buccaneers have won, was performed by The Weeknd.



---
Thirty-three (33)



The MVP of Super Bowl LV was Tom Brady.





Las Vegas player Henry Ruggs was driving 156 miles per hour when he had his car accident:

---
The Weeknd
33 is shorthand for 666

This wrongful news came out on September 5th, or 9/5.

His real name is Abel Tesfaye.

Mike Williams was the 101st pick of the Draft
September 5th was 201 days (or 202 w/ end date) after The Weeknd's birthday


---
6

×

6

×

6

=

216


The score of Super Bowl LV was 21-6 when The Weeknd did his halftime show. He was born on February 16th, or 2/16:

He was born in 1990

Tom Brady

was drafted 199th

199 is the 46th Prime number