Actor / Writer Johnny Hardwick from "King of the Hill" Dies @ 64

Hardwick was an Emmy award-winning voice actor and writer who was best-known for being the voice of Dale Gribble on the long-running television series King of the Hill.
The creator of King of the Hill is Mike Judge.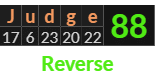 Johnny reportedly died on Tuesday, August 8th, or 8/8.
---
King of the Hill premiered 8 months, 10 days before Johnny Hardwick's birthday. News of his passing made headlines today, August 10th, written 8/10 or 10/8. This reflects his initials J.H., or 10-8 in gematria.
Judge was born on a date with Primary numerology of 108:

A baseball is made up of 108 double stitches:


Last season, Aaron Judge hit 62 home runs to become the all-time King for the regular season in the AL.




Yale turns 322 years old on a date with Primary numerology of 62:

Yale University is home to the Skull and Bones secret society. More on this powerful link in my second post on this story.
---
Aaron Judge / 2024 Eclipse
Last year in Baseball, the American League got a new home run "King" (think King of the Hill) when Aaron Judge, who shares a last name with Mike, broke the single-season record.

Aaron Judge was born on April 26th, or 4/26:




The number 426 has Pythagorean gematria of 104.

Aaron Judge broke the AL home run record on October 4th:

October 4th is written as 10/4



In April of next year, a Total solar eclipse passes over the state of Texas, where King of the Hill takes place: