A Look at Packers Kicker Mason Crosby

Vincent Thomas Lombardi died on September 3rd, or 9/3. Exactly fourteen years later, Kicker Mason Crosby was born:



Lombardi died in '70

---
Super Bowl LVII
Crosby was born on the same date as the Death of Lombardi.

The 38th Prime number is 163

It would be Aaron Rodgers' 163rd career win


Crosby and Lombardi were born 26017 days apart. 2617 is the 380th Prime number
26017 is the 2862nd Prime number. "Mason" = 28 / 62
---


The Packers are looking for their 14th NFL championship. The 14th Prime number is 43, and the game is being played on the 43rd day of the year:

---
Pope Benedict XVI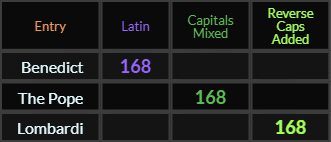 Mason Crosby stormed into the NFL, kicking three field goals in his debut, including a game-winner to beat the Philadelphia Eagles in the game's closing seconds.




---
Benedict XVI died on a date with Primary numerology of 85, the first one in thirty years:



The 202nd Prime number is 1231

Ratzinger

died on 12/31


---
Joseph Ratzinger and Mason Crosby sync up with the values of Society of Jesus and Jesuit Order, respectively.

Crosby's middle name is Walker, which matches the Latin value of the Jesuit motto.

Mason was born on a date with Primary numerology of 115:



---
Crazy Guy Makes a Prediction
After the big Aaron Rodgers riddle on Sunday, Mason Crosby is currently sitting on 2,071 points for his career:


This means he's averaging 7-8 points per game during his NFL career. If he plays five more games, it would stand to reason that he could land on either 2104 or 2114 points for his career.

The strength of these alignments would even lead me to believe his final kick could be a game-winner.