Pat McAfee's Partnership with A.J. Hawk
Last year, I began checking out the Pat McAfee Show as a way to keep up with sports stories I may want to decode, partially due to his involvement in pro wrestling. I was pleasantly surprised by the show and the admittedly-stupid humor that pervades it, which is actually right up my alley. After all, I try to save my "serious" side for gematria videos.
One of the reasons I took a bit of a liking to the show was because of the dynamic between McAfee and co-host A.J. Hawk, a former Packer whose career I was very fond of when I was a big football fan. It dawned on me today – why not run the numbers and show people how their chemistry is evident through numerology?
---




---
Both men wore numbers highly-relevant to their name during their NFL careers. First, notice how both Patrick and Patrick McAfee sum to 111.

McAfee wore #1 throughout his entire career. Meanwhile, Aaron James Hawk wore #50 until his final year with Atlanta, where he donned #54: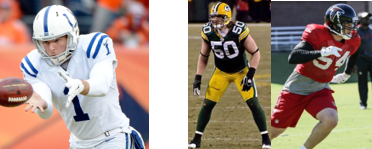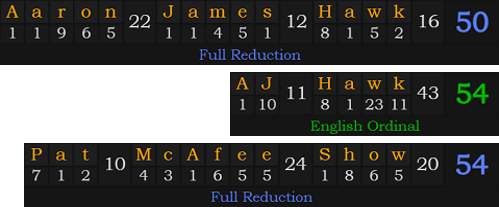 ---
If you watch the show, it won't take long to hear how Pat has an affinity for a particular herb.

He has Primary birth numerology of 113, appropriate for a career in Broadcasting:

---
666 Riddle
In a previous post, I explored how strong Pat's connections were to the number 666. As I explained in my post on Mr. Beast, I believe this number is indicative of someone who is highly-adept at manifesting their purpose on Earth.

6

×

6

×

6

=

216

---
The name McAfee on its own sums to 33 and 198, two more numbers connected to 666, the number of the Beast.





---
666 is revealed as the Beast's number in Revelation. The final verse of Revelation is 22:21, and 2221 is the 331st Prime number.
Revelation was written by John of Patmos and details the Second coming of God's son.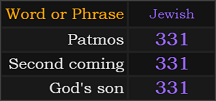 Both Pat McAfee and The Pat McAfee Show sum to 331.

He was even born in the year '87.