Ukrainian Actor/President Volodymyr Zelenskyy
Volodomyr Zelenskyy doesn't just play the President of Ukraine in real life. He also played the President of Ukraine in a TV series that ran from 2015 up until his real election in 2019.
---
Saint Ignatius Riddles
Ukraine was attacked in February of 2022, which is part of the Ignatian year according to the Society of Jesus. The Ignatian year began on May 20th, which is the same date that Zelenskyy took office:

Saint Ignatius of Loyola died in 1556:

2019 – 1556 = 463. This is Zelenskyy's full name in the alphabetic order.
Presidential elections in Ukraine fall on wildly different dates each time. The election Zelenskyy won was held on April 21st, or 4/21.

He became the president on a date with Primary numerology of 64:

Ignatius of Loyola died at the age of 64 years old:

---
"Ukraine" = 93 (Ukrainian Ordinal). Saint Ignatius of Loyola has matching 93 gematria with Volodymyr Zelenskyy, the President of Ukraine.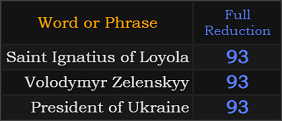 Ignatius was born on October 23rd, written 10/23. Saint Ignatius of Loyola sums to 123 and 303 in the Reverse alphabetic order:

Zelenskyy was born on a date with numerology of 123 and 303:

---
Servant of the People
The Society of Jesus was founded on the date leaving 95 days in the year:


Servant of the People was produced by his own company, Kvartal 95.


Servant of the People premiered 264 days after his birthday, and 101 days before his next:


---
The show's first episode aired on October 16th, written 10/16 or 16/10. Ignatius was dubbed "Servant of the court" when he was 18.

Volodymyr was 37 years old when the show debuted.

---
264 days is also exactly 8 months, 3 weeks. In the series, Volodomyr Zelenskyy plays Vasyl Holoborodko.

83 is the 23rd Prime number
Kvartal 95 was founded in 2003
Zelenskyy got married in 2003
This is also Zelenskyy's Reduced birth numerology:


23

×

23

= 529
2300 weeks = 529 months