Brady's Retirement as it Relates to Joe Burrow
Tom Brady's Tuesday retirement announcement fell on the first day of the Year of the Tiger. Of all the teams in the NFL, the closest symbol to a tiger would have to be the Cincinnati Bengals, the representatives of the AFC in Super Bowl LVI.
Perhaps the other team that is most-closely connected to a tiger would be the Lions. The Bengals are tasked with defeating Matt Stafford, who was the long-time quarterback for the Lions up until this season.
This season, the Lions just barely avoided being the worst team in football, being edged out by half a game by…the Jaguars, yet another member of the genus "panthera". The Panthers also finished last in their division.
---
There seems to be an interesting riddle with Weeks in this year's championship game.

Brady was born a span of exactly 1010 weeks before Joe Burrow, who will be 1313 weeks old for the Super Bowl:

1313 is like 2 13's. The date of the game is 2/13, matching Burrow's full name and nickname.

13-13 –

B-B




B

rady…Burrow…Bengals


B

=

2




2

nd month of 2022
All season, I've talked about how significant the number 13 has been to the theme of this year's Super Bowl. While I spent a lot of time talking about the Cowboys, those who paid attention to my videos heard me explain how there was a good chance these repetitive 13's were simply pointing us to another, perhaps even simpler riddle.
Not only will Burrow be 1313 weeks old, but his first win of the postseason was the 13th of his career. He enters the Super Bowl still sitting on 13 career losses.
He'll be going up against Matthew Stafford, who is playing in his 13th season in the NFL, and his first for L.A.

Matthew could get the 99th loss of his career in the Super Bowl.


The NFL season began on 9/9, the Championship Games were played on 1/30, and this will be the first Super Bowl to fall on the 13th day of the month in 48 years.
---


347 is the 69th Prime number

It seems noteworthy that he'll will be looking for his 90th career win, while the Bengals' franchise chases its 9th postseason win in its 23rd game. 23 is the 9th Prime number. Matthew wears #9: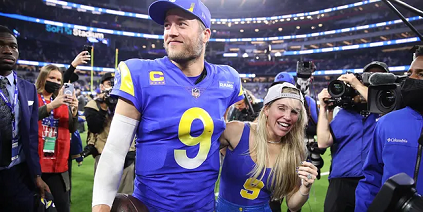 So does "Joey Franchise":