Vatican's Second-in-Command Tests Positive for COVID

Cardinal Pietro Parolin is the second-in-command at the Vatican behind Pope Francis,

See how the number 666 has been coded into the pandemic on a level too few can even comprehend in this video.
---
This story states that Parolin has allegedly contracted COVID-19.
The 19th Prime number is 67


Parolin is the highest-ranked Cardinal in the Catholic Church. He fell ill a day after the Cardinals were eliminated from the playoffs:


---
"Thirteen" Coding
Arizona Cardinals represent 1-3.

Last night's loss for Arizona was Matt Stafford's 13th win for "LA" = 13, improving his career playoff record to 1-3. It was the Rams' 13th home playoff win in franchise history.
"Kyler Murray" = 130 started and finished the game with 13 road wins in his career. His teammate Eric Weddle made an unlikely return from retirement 13 days after his birthday. Another unlikely return was made by J.J. Watt, who wears #99. "Thirteen" = 99 / 117, and the game was played on 1/17.
The loss that fell 31 days after the Pope's birthday was the Cardinals' 31st postseason road loss in franchise history. The Rams blew them out with 31 points.
---

Francis became the Pope on March

13

th, or

13/03

The WHO declared a Coronavirus pandemic on March 11th, written 3/11 or 11/3.


Francis's papacy began on 3/13/13

---
"Lie" Code
The number 113 shown above is the primary number of deception (click to enlarge):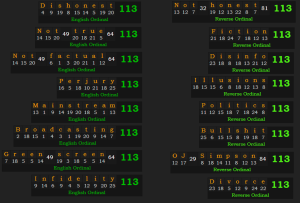 If you flip the word LIE upside-down, you get the number 317.



431 is the 83rd Prime number