Austin Restaurateur Kevin Williamson Dies @ 59


Williamson

was born in '62

---
Kevin Williamson was the owner of Ranch 616. The number 616 is one I've paid a lot of attention to this year. See my decode on Chris Paul from May for a perfect example of how this number is venerated.
616 is often referred to as the "alternate" number of the Beast. It was decoded from Papryus 115.

This is probably connected to the orbital speed of the Earth, which is said to be 66,616 mph. Most people recognize 666 as the number of the Beast. Ranch 616 was opened in 1998, which is 666×3. Another source said it was opened in 1999, which has an upside-down 666.
In Latin/Jewish gematria, 616 is the value of Ritual sacrifice.

---
In that same method, the word Kill sums to 59.


Restaurateur Kevin Wayne Williamson died at the age of 59.

Six sixteen has Reduction gematria of 59 and 148.


---
Austin, Texas
Kevin was born in Austin, Texas, where his restaurant was located. He died on a date with Primary numerology of 78 and 42:



The Jesuit emblem is like an eclipsed Sun: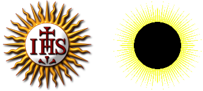 ---
Eclipse Code
The date he died also had Reduced numerology of 13:



13

×

13

=

169

Just two days after that Annular Eclipse, there was a mass shooting in downtown Austin that was also coded with the number 59 and 1313. That shooting was on Sixth Street, just one block away from Ranch 616. This Restaurateur died 167 days after the shooting:


---
In the Gospels, the sky falls dark, like an Eclipse, during the Crucifixion of Jesus of Nazareth.


It is widely-believed that Jesus was crucified at the age of 33 in the year 33 A.D.

Williamson died on the 330th day of the year: