The First Major League Baseball Draft in 1965
The ultimate Eclipse number is 1331.

A Solar eclipse occurs when the Moon blocks the Sun. The day of the week named after The Moon is Monday.

The first player ever selected in the MLB Draft was named Rick Monday:

He played for the Arizona Sun Devils: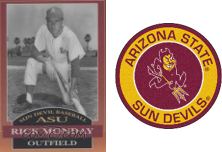 Rick Monday was born on November 20th, written 20/11 internationally.

211 is the 47th Prime number

The baseball diamond is reminiscent of the Freemasonic compass and square, which is set to 47°: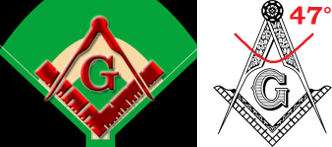 The first-ever Major League Baseball draft was held on June 8th, 1965, which was the 47th anniversary of the most recent Total eclipse to pass over both coasts of the United States:

June 8th can also be written as 8/6.

---
The word Eclipse has gematria of 120 and 192.

Rick Monday was 1020 weeks (or 19 years, 200 days) old when he was drafted:

He was selected by the Kansas City A's.

---
Rick, who made his Major League debut in '66, was born on the 324th day of the year:


---
U.S. Flag Incident
While Rick Monday was playing center field for the Cubs in '76, he interrupted what was certainly a staged Protest between innings by saving an American flag from being burned.


113 is the 30th Prime number

157 is the 37th Prime number
The game was
Chicago

vs.

Los Angeles


The

Rescue

occurred in front of the 370′ sign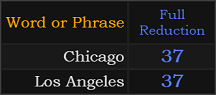 ---

The Burning American flag was saved by Robert James Monday in a game against the Dodgers during the nation's Bicentennial.


The Dodgers were thankful for Monday's actions, and they presented him with the flag he rescued on "Rick Monday Day" back in Chicago a week later. Not only that, but they ended up getting Rick Monday in a trade after that very season.


Another popular name for the American flag is the Star-Spangled Banner. The poem by that name, which would later be turned into a song that became our national anthem, was written by Francis Scott Key.


---
Star-Spangled Banner has gematria of 666, the ultimate number of the Moon.



Rick Monday, whose legal name is Robert Monday, was born on 20/11, a date with Primary numerology of 95: