Look Out for Ozzie Albies Tonight

Last week, an NFL replay official died on his way back from a game involving the Chiefs, who played in the last two Super Bowls. I was unable to find a birthday for Carl Madsen, but I did stumble across this Wikipedia page for a Dutch politician named Carl Madsen.
There's virtually no Dutchmen to have ever played football in the NFL. However, there's a short list of Dutch MLB players, seven of whom are active. One of them is Braves second baseman Ozzie Albies, who happens to be playing in the World Series: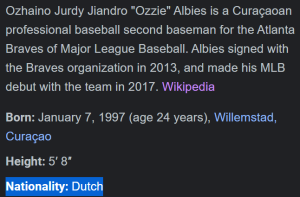 The politician died in '44


---
Darren Daulton Connection?
Ozzie Albies, who is currently 24 years old, has the right type of name for a big World Series moment.


24 years ago, in the same year Ozzie was born, Darren Daulton, whose nickname was Dutch, won his only World Series. Daulton died at age 55 just 5 days after Ozzie Albies made his Major League debut. Their birthdays are separated by a span of 5 days.
Darren's death fell on a date with 24 numerology, which left 147 days on the calendar: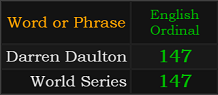 The same year Darren died, the Houston Astros won the World Series, the same team the Braves are playing this year.

---
Darren died 11 weeks, 2 days before the beginning of that year's World Series. Ozzie Albies was 20 years, 211 days old when he passed away. Today, which is 11/2/2021, falls 221 weeks, 2 days later:


Darren, whose birthday has numerology of 22 and 12, would be a span of exactly 3,122 weeks old. Darren wrote a book about mysticism which makes special mention of the date 12/21/2012, or the end of the Mayan calendar. Worth noting that Adam Duvall, who has 120 birth numerology, is 12112 days old.
---
The name of that book is If They Only Knew.


The Braves are looking for their 10920th win in franchise history tonight. I find it noteworthy that Ozzie Albies sums to both 129 and 1191. 1+191 = 192. He's exactly 1295 weeks old today.

The entire Braves infield is coded like this. Braves 1B Freddie Freeman was born on 12/9 and 3B Austin Riley is exactly 1290 weeks old. Game 4 hero SS Dansby Swanson was born on a date with 126 numerology and is 10,126 days old. DH Joc Pederson is 29 years, 195 days old.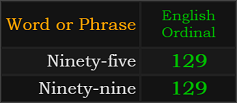 The Braves, whose first World Series home game fell on 10/29, have not won the World Series since Ninety-five and last appeared in the Fall Classic in Ninety-nine.
---
Darren's open mind and desire to speak his truth remains an inspiration to my work. See my tribute to him from last year, which appropriately occurred by the numbers as well.