Grocery Store Shooting in Tennessee Leaves One Dead

This occurred at a Kroger grocery store. The founder of The Kroger Company was Bernard Kroger, a man who I already featured in a video this year (Click here to watch).




---
The Moon
The shooting in a suburb of Memphis, Tennessee fell on September 23rd, which is the date leaving 99 days in the year:



In Jewish gematria, The Moon sums to 283.


283 is the 61st Prime number
The current CEO of Kroger is Rodney McMullen.

The shooting fell 6 months, 1 day after another mass shooting at a Kroger supermarket, King Soopers:

This is also a span of 186 days. Bernard Kroger was born in 1860.
---
Both Collierville and Memphis have interesting Jewish gematria that connects to the Moon as well.
The Moon has an equatorial diameter of 2160 miles:
The 216th Prime number is 1321
The inverse of 216 is 612

---
Eclipse Numerology
This occurred in a suburb of Memphis, Tennessee.


The town this grocery store is in is called Collierville, which has matching gematria with Solar eclipse.

Today has numerology of 73, 19, and 53:


In Jewish gematria, Solar eclipse sums to 433.


Recall how Marge gets blinded by a solar eclipse in the 433rd episode of the Simpsons: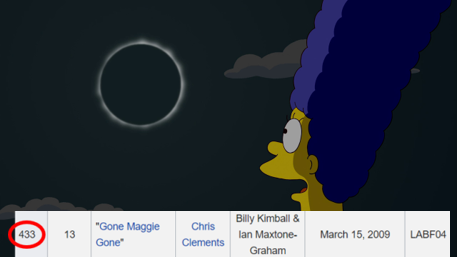 433 is the 84th Prime number


---
Kroger is headquartered in Cincinnati, Ohio, which is coded with numbers of the Moon's Metonic cycle, which lasts 235 lunar phases and 254 sidereal months.