Mike Richards Resigns from Jeopardy! Hosting Gig

The previous host of Jeopardy!, whose real name was George Trebek, died on November 8th, or 11/8. The show then named Mike Richards as his permanent replacement on August 11th, the other date written 11/8.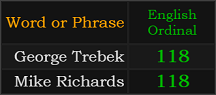 This is a number frequently found in stories about someone's Death.

In that Jewish cipher, Trebek's full name sums to 812.


---
Their names also share a 64 in Reduction.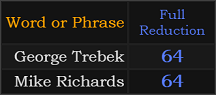 Richards agreed to vacate his new job a little more than a week later on August 20th. That date fell 40 weeks, 6 days after Trebek died, and Mike Richards was 46 years, 46 days old:

---
"Michael Richards" Riddle
Mike Richards shares a first and last name with another famous actor, Michael Richards, who was best-known for playing Kramer on the sitcom Seinfeld. That Michael Richards also suffered a fall from grace when he was "cancelled" as a stand-up comic following a racist on-stage tirade back in 2006.

---
Michael Richards was born on July 24th, written 7/24: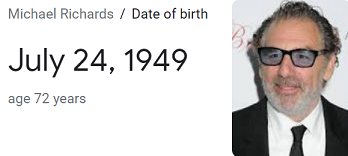 July 24th can also be written as 24/07.

Their shared name Michael Richards sums to 274 in Reverse.

---
Michael Richards has Reduction gematria of 77.

Mike Richards resigned from his new role exactly 770 weeks after Michael Richards' regrettable incident at the Laugh Factory: