Whitney Houston's 2012 Death @ 48 Years Old
The Drowning of Whitney Houston occurred on February 11th, written internationally as 11/2.

Drowning in a bathtub contains symbolism connected to the Moon, which governs our tides and is connected to the Feminine element of Water.

Whitney was born on the 144th day of the year, and died on the 42nd day of the year at the age of 48:



---
"Revelation" Riddle
February 11th can also be written 2/11. This is connected to the number 666, which is not only a very significant number to the Moon, but also primary to the Fake Moon landing put on by NASA.


Whitney was born in the city of Newark.

666 is revealed as the number of the Beast in the book of Revelation. The final verse of Revelation, and thus the entire Bible, is Revelation 22:21.
Whitney died a span of exactly 2221 weeks after the Moon landing:

For much of 2021, I've been documenting the big "Revelation" lunar eclipse of 5/26/2021, which appears to be connected to a major eclipse verse in Revelation. May 26th is written as 5/26. This same measurement is also 526 lunar phases:

May 26th can also be written 26/5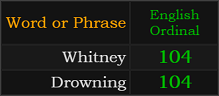 Read more about how Whitney's death was connected to Sirius moving to 104° of the ecliptic.
The 104th Prime number is 569
She died exactly 569 sidereal months after the Moon landing:

---
6

×

6

×

6

=

216

Whitney Elizabeth Houston

died at the age of exactly 600 synodic months (lunar phases)

Her death fell 111 months, 15 days (or nearly 115 lunar phases) before the "Revelation" eclipse mentioned above: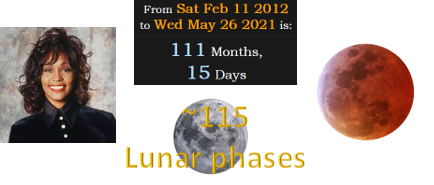 ---
Birth Numbers
The first fake Moon landing was on July 20th, written 7/20. This is the Reduction value of Whitney Houston and the Ordinal value of Newark, where she was born.


The only number The Moon does not share with Newark is 99. But Whitney Houston has Primary birth numerology of both 99 and 36:

Her date of birth also leaves 144 days on the calendar:


---
Local Lunar Eclipses
Whitney Houston was born in the year '63, during the 63rd lunar phase since NASA was first established.



She was 48 years old

The 48th Prime number is 223