New Coldplay Song "Higher Power" Released

This song Higher Power is being released on May 7th, the date written 5/7 or 7/5.

---
Coldplay singer Chris Martin was born on 3/2/77.

His full name syncs up with Christ in Jewish/Latin gematria, and Jesus Christ in English.


---
The song's release falls a span of 67 days after Chris Martin's birthday: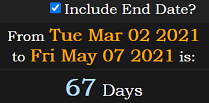 The 67th Prime number is

331


The track is 3:31 in length:
One of Chris Martin's middle names is John. The Last book of the Bible, by John of Patmos, is about the Second coming of God's son.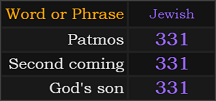 The 331st Prime number is

2221


The final verse of the Bible is Revelation 22:21
---
Date Numerology
We're taught that Jesus was crucified in 33 A.D. at the age of 33. The release date has numerology of 33, fitting for a band from England with a frontman named Chris:



May 7th also has a Life Lesson number of 17:


The 17th Triangular number is 153
Chris Martin is a Pisces, symbolized by a Fish.