Bill & Melinda Gates Announce Divorce

Bill and Melinda got married on the first day of '94, a number coded into the headline:

The Gates have been married for nearly 27.5 years. In Reduction, we find matching 275 gematria with 666:

I've done a lot of work how Bill Gates is coded with number 666.
666 Covid Riddle (Video)
Bill Gates Gets PIE-d (Video)
Bill Gates and Paul Allen
Bill Gates Addresses Conspiracy Theorists

The number 666 is connected Bill Gates and 33.


Bill is currently 65 years old. The 65th Prime number is 313, the Extended value of Gates.

---
Isn't it interesting that this made headlines on May 3rd, written 5/3?


If Bill and Melinda aren't trannies, I'm not sure who is.
---
The Beast
Bill shares 35 gematria with The Beast.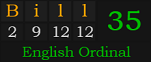 Today is
May third

, or 3/5

The 98th Prime number is 521

---
In Jewish gematria, The Beast sums to 311.

311 is the 64th Prime number
Bill Gates was born on the date leaving 64 days in the year:

Melinda's birthday this year, which was measured above, falls on a date with Primary numerology of 64: