Alex Smith Retires from the NFL

666 is (mistakenly) considered to be Satanic.


Alex Smith has Sumerian gematria of 666. It's also worth noting that his name sums to 966 in Trigonal.

This news is in the headlines at the same time as the first-ever Helicopter flight on another planet: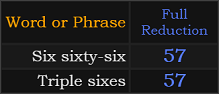 Alex Smith

was born on

5/7

57 and 51 are typically associated with the Moon. My first post on the Perseverance landing explained how the landing on Mars was connected to the Moon.


---
Today, Alex Smith turned exactly 457 lunar phases old:

457 is the 88th Prime number

Alex Smith was born in '84.

---
What I'm calling the Revelation eclipse occurs on 5/26/2021.

13 × the 13th Prime number (41) = 533

The number 533 is further-connected to Alex Smith, who was born on the 128th day of a leap year, a date with 115 Primary numerology:


Consider how the Moon is .272 the size of the Earth. I recently documented this number last week when talking about Ben Roethlisberger.

Smith broke his leg on the 322nd day of the year:


---
666 Coding
666 is the 36th Triangular number

6

+

6

+

6

=

18

Today is 18 days before Alex Smith's birthday and exactly 18 weeks after the last Total Solar Eclipse:

18 weeks is also 126 days. Smith broke his leg in the year '18, exactly 126 weeks ago yesterday.

---
666 is the number of The Beast.

311 is the 64th Prime number
Today has Primary numerology of 64:

666 is revealed as the number of the Beast in Revelation, the 66th book of the Bible.


The Beast rules for 42 months in Revelation.
---
"Washington" Coding
It happens in verse 13:18, the 229th verse of the book.


229 is the 50th Prime number
Alex Smith went to college at Utah and retired with Washington.

Since their team name was removed, the Washington Football Team is abbreviated with WFT.

Smith was injured 131 weeks, 3 days before the Revelation Eclipse.


He's retired in the year 2021.

---

The 38th Prime number is 163


The 163rd Prime number is 967