"The Muppets" Featured on Monday Night Football
The Muppets were featured on Monday Night Football tonight: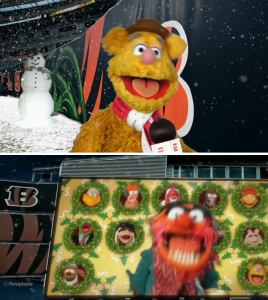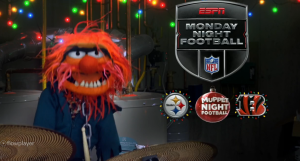 The most recent Muppets series is Muppets Now, which debuted earlier this year:



The game is taking place in Cincinnati, Ohio.

Including the end date, it's been a span of 144 days. The Great Conjunction is a significant moment in time.

---
The NFL had a significant death today. 3-time First Team All-Pro Kevin Greene passed away.
Kevin Greene was born on

7/31


Muppets Now! debuted on

7/31
The game in Cincinnati is being played in Paul Brown Stadium, named after NFL legend Paul Brown, who was an integral figure for both Ohio football teams.

The Browns sealed the game with a field goal in the final seconds of the game, kicked by Austin Seibert.

---
It's been 138 days since the anniversary of Paul Brown's death:


The name Brown syncs up with Great Conjunction, as do The Cincinnati Bengals:

---
Paul Brown would be 41,013 days old:

41 is the 13th Prime number