Ukrainian President Volodymyr Zelensky Diagnosed w/ Covid



The disease is called Covid-19.




---
"Jesus" Riddle

Volodymyr Zelensky, the President of Ukraine, is 74 days before his 43rd birthday:



Today has Standard numerology of 43:

---
Jesus' initials sum to 13.

Notice how Zelensky's name is officially spelled Zelenskyi:


Zelensky has Primary birth numerology of 123:


---
Astrology
Jesus, the son of God, is equated with the Sun, whose Magic Square sums to 666: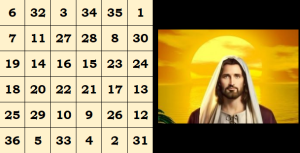 Jesus is also equated with Mercury, as Rambo has eloquently examined.
"Volodymyr Oleksandrovych Zelensky" = 438. 438 minutes is 6:18. "Mercury" = 618 (Sumerian).