Governor Phil Murphy Quarantining After Covid Exposure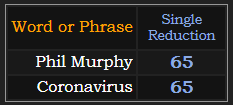 Phil Murphy is the 56th governor of New Jersey, which his name shares gematria with.

---



The 66th Prime number is 317

The second Great American Eclipse falls in 2024.

---
FOX's headline sums to 293 in Reduction.

Recall how the coronavirus pandemic was declared a National Emergency on the date leaving 293 days in the year:

220 days later was the 293rd day of the year:


On that date, it was reported that 220,000 Americans had died of Covid.