Trump Threatens to Move RNC Out of North Carolina

Today's date is May 25th, written 25/5. This morning's top story is about the GOP National Convention.

Today has Primary numerology of 70 and Standard numerology of 50: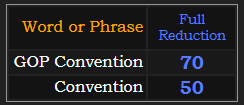 ---
Donald Trump
May 25th is a significant date for Donald Trump in leap years. Consider how he was born on June 14th, or 14/6. May 25th is the 146th day of a leap year, leaving 220 days on the calendar:


The Convention is scheduled to begin on August 24th, the date written 24/8.

---


271 is the 58th Prime number

His feud today is with Governor Roy Cooper

Trump won the 58th Presidential election and was sworn in on 1+20+20+17 = 58. He announced his candidacy from the 58-story Trump Tower. He became the first sitting president to visit the site of "Solomon's Temple" = 58, "Second Temple" = 58, "Herod's Temple" = 58, "Third Temple" = 58. Roy Cooper's last birthday was even 6+13+20+19 = 58.


---
"13" Riddle


169 is 13 × 13

13 is the 6th Prime number
Roy Cooper was born on 13/6



---
Miscellaneous
Roy Cooper's middle name is Asberry.

North Carolina was admitted to the Union on a date with Primary numerology of 138:

Donald Trump's threat to the governor is because he wants full attendance.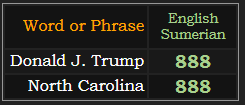 ---
One more thing about Roy Cooper I want to point out. His full name sums to 2153.

2153 is the 325th Prime number
North Carolina became a state on the 325th day of the year:


Donald Trump's full name sums to 977 in the same cipher:

977 is the 165th Prime number
Trump was born on the 165th day of the year. In leap years, Roy Cooper's birthday falls on the 165th day of the year: