New York Couple Killed in Mexico While Quarantining

The names of the couple killed while quarantining in Mexico were Pat Landers and Karla Baca.


---
The words shooting and gunfire both sum to 44. It's said twenty shots were fired at their Jeep.



The couple was killed this past Monday, a date with Standard numerology of 44:


The man's name is Pat Landers.


His girlfriend's last name was Baca.

In Ordinal, forty-four sums to 144, like the date April fourth, written 4/4.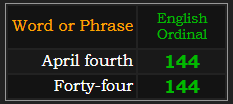 Landers made his final Facebook update just one minute after the calendar turned to April 4th:

Pat was from the village of Baldwinsville.

---
The couple died in the city of Juárez. With the accented character omitted, as I have been consistent with, this sums to 80.
The victims' names were Pat & Karla.

Their last names were Landers & Baca.
Notice how this sums to 217 in Reverse. In the same cipher, that's the value of El Paso del Norte, which Juárez was called until 1888.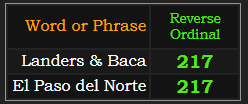 Juárez is situated directly across the U.S.-Mexican border from El Paso, Texas, which sums to 160 in Reverse, just like Pat Landers.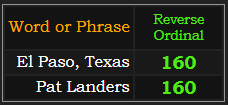 In Ordinal, this is the value of Pat Landers & Karla Baca.

---
The name Pat Landers sums to 110 in Ordinal.

He and his girlfriend were killed a span of 1 month, 10 days after Covid-19 was declared a pandemic: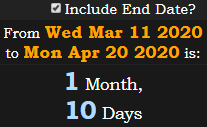 It was also 1 month, 10 days after they made their relationship "official" on Facebook (March 10th). The couple then died on April 20th, which is usually the 110th day of the year. In a leap year like 2020, it's the 111th:


The couple was from a suburb of Syracuse, New York.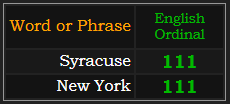 This means Syracuse, New York sums to 222.

The village Pat was actually from, Baldwinsville, NY, also has 222 gematria.

Juárez is a city in the Mexican state of Chihuahua. Juárez, Chihuahua, Mexico sums to 2220 in Jewish gematria.


---
It's worth pointing out how Pat Landers sums to 660 and 960 in Sumerian gematria. They were quarantining from corona.

The name Patrick sums to 33 like corona.

This is the gematria of their home state, as well as the country they were killed in.


The article mentions that Pat left behind a son named Cameron.

---
Eclipse Riddle

El Paso and Juárez are near the path of totality for the 2024 Greater American Eclipse: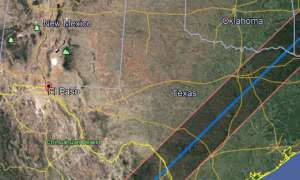 That eclipse falls a span of 1450 days after these murders: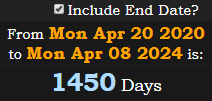 Notice both events are Mondays. Their deaths fell exactly 207 weeks before that eclipse: