Singer / Songwriter John Prine Dead @ 73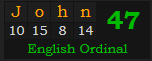 Musician John Prine has allegedly died from the novel coronavirus on 4/7 at the age of 73.




He died in a hospital in Nashville, Tennessee on the 98th day of a leap year:


His last name also has matching gematria with corona.


His date of birth had Standard numerology of 66:

---
"Revelation" Riddle
John Prine was born on October 10th, 1946, a date with Primary numerology of 85:



His birthday was October 10th, written as 10/10.

Alarmingly, Covid nineteen has this same gematria as Revelation.

Prine died on 4/7. The word for Revelation in Hebrew gematria sums to 844:


Prine passed away during his 26,844th day since his birthday: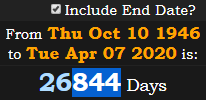 ---
"Kill" Code
Prine was a folk artist. Notice how folk has the same gematria as kill.


The 44th
Prime

number is 193
John

Prine

…

His wife first revealed her diagnosis of the disease on 19/3, or March 19th:

The virus is known as Covid-19. The name John Prine sums to 109 in the alphabetic order.


He passed away 19 days later:


His hospitalization fell 7 days after his wife's diagnosis, and he died 12 days later. Remember, there are 19 years in the Moon's Metonic cycle, 7 of which have thirteen lunar phases and 7 of them which have twelve.

---
Eclipse Code
As I explained in my first post about the coronavirus outbreak, this entire ordeal is a ritual related to the 1331 mega-eclipse which occurred the same year the Black Death plague began in Hubei, China, the exact same province Covid-19 came from. Prine's death fell on a date with 13 & 31 numerology:

In Hebrew, total solar eclipse sums to 280.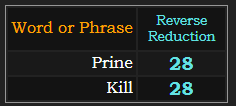 Prine's death fell exactly 280 days after the most recent total solar eclipse:

Recall how "Prine" = 224 and "Corona" = 224. John Prine died 208 weeks before the 2024 Great American total eclipse in Nashville, Tennessee:



His death fell on the 28th day of coronavirus being declared a pandemic: