Jazz-Thunder Game Suspended Due to Coronavirus

As I documented in my last post, the coronavirus outbreak is heavily-related to the death of Kobe Bryant.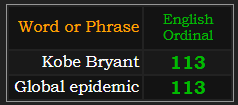 Coronavirus was declared a pandemic by the World Health Organization on March 11th, written 11/3. The biggest story to immediately follow was the suspension of the current NBA season.

The suspension followed a positive diagnosis of players from the Utah Jazz.

The game was being played in Oklahoma City.

It was 101 days after the first case of Coronavirus was discovered.

---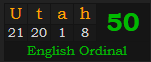 The first player from Utah to be diagnosed was Rudy Gobert. He was born 5056 days after Kobe Bryant:
Kobe Bryant was born on a date with a Life Lesson number of 56

He died exactly 56 days after the first case of coronavirus was discovered in China:

The disease was then declared a pandemic 56 days before the date 5/6

Coronavirus sums to 56, just like Bubonic plague.

The date of the WHO's pandemic declaration was March 11th, which is normally the 70th day of the year:

---
Rudy Gobert
The fact that Rudy Gobert was the first player diagnosed with the disease is quite bizarre – he just happened to mock the virus a couple of days earlier, touching microphones and other objects.
Now, he's the media's primary example of how not to act, and how foolish mocking the virus is. How convenient. Should we be surprised that Rudy Gobert is closely-connected to Kobe Bryant through the numbers?


67 is the 19th Prime number
The disease is called Covid-19


Rudy Gobert has the same 135 and 54 gematria as Kobe Bean Bryant.

His diagnosis was on a date with 54 numerology:



It cancelled the Jazz-Thunder game.

---
Bourgarel was 1,445 weeks old:


His full name sums to 99 and 108 in Reduction.

Gobert's diagnosis fell 108 days before his birthday: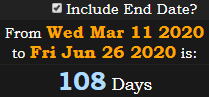 The 99 and 108 match his name. 216 is 6×6×6
The number 666 is incredibly-significant to this epidemic. Fittingly, I made this post specifically addressing the number 666 in relation to Kobe Bryant. His career-high 81-point game, the second-best in NBA history, was his 666th career game. He played the game on the same date Wuhan, China was placed under quarantine.

Behind Gobert during his press conference in which he touched everything within arm's reach, there was an advertisement for Zions Bank, which I had not seen before: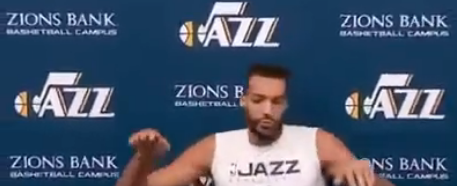 234

+ 432 = 666

In Jewish gematria, his name sums to 1373

1373 is the 220th Prime number
2020 is the year of the Coronavirus pandemic