5 Dead in Pennsylvania Turnpike Crash
Less than 24 hours after this bizarre crash, in which a Coca-Cola semi truck slammed into the front of a home in Pennsylvania, a pile-up of semi trucks occurred on the Pennsylvania Turnpike.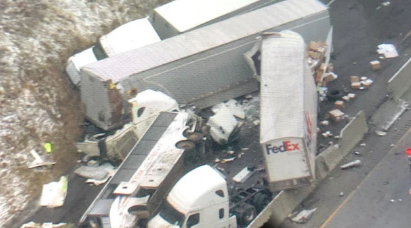 I originally put the post about the Coca-Cola truck in the "Organic Matrix" part of my blog, but thought there was a decent chance it was staged. It's pretty difficult for me to understand why the truck struck the home, when the driver should have been able to miss it.
Upon seeing this story about the crash on the turnpike the following day, it really got me wondering. Before I talk about that, let's glance at some of the numerology involved.
---
CNN says the crash occurred at 3:34 am:

Mount Pleasant Township, Pennsylvania is made up of 33 letters and 4 words:

The 3400 gematria stands out in light of other outlets reporting the crash to have occurred around 3:40 am


The pileup of semi trucks occurred on a date with 46 and 26 numerology:


The crash on Interstate 76 occurred at mile 86. It's being reported that 86 miles of interstate were shut down to allow for clean-up. Both of these numbers are associated with death:

---
After seeing this turnpike crash, I came to a different conclusion about the Coca-Cola truck incident. A budding theory I've had for over a year now is that information about future tragedies is somehow fed to the shared consciousness, and those who have primed their minds for the reception of such knowledge are staging news events before these tragedies, either in the same general location (as is the case with these two crashes in the same state), or with similar gematria.
See my post from last year about Syracuse basketball coach Jim Boeheim killing a pedestrian named Jorge Jimenez. This occurred several hours after Duke player Zion Williamson's shoe tore in the first 30 seconds of a game.

Boeheim coached the USA Basketball team alongside Duke coach Mike Krzyzewski, among many other connections. While many will argue that Jimenez was certainly murdered as some sort of ritual sacrifice, there is literally zero evidence for this. Instead, my view is that the tragedy was somehow known ahead of time, and Williamson's torn shoe was a staged event. Only those familiar with this knowledge, and the advanced truths of our reality, would ever pick up on what these people are doing.
Do I know this? No, not at all. Do I think this sounds a bit crazy? Yeah…but in my experience, this is a crazy world. So many things remain unexplained. I think it's time for us to keep an open mind and entertain such philosophies going forward.