Jason Momoa Does Not Like Plastic Water Bottles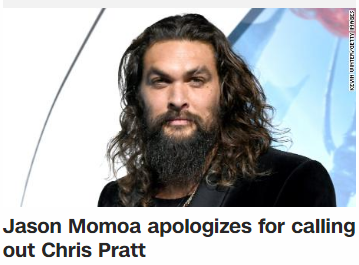 Jason Momoa had called out Chris Pratt for an image of him holding a single-use plastic bottle.




Today is 155 days after the 2019 total solar eclipse


Both Pratt and Momoa were born in 1979, with their birthdays being separated by a span of 42 days: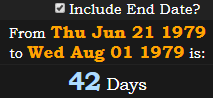 Water bottle matches Chris Pratt in Reverse Reduction: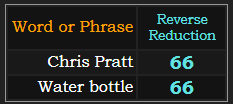 ---
Today has primary numerology of 55



Today's standard numerology is 35, syncing up with Momoa's name in Reduction:




Chris Pratt, meanwhile, was born on a date with Reduced numerology of 35

---
Actor Ages
Plastic bottle also sums to 154 in Ordinal:

With the capital letter, Plastic bottle sums to 180

Momoa is a span of exactly 18 weeks after his birthday: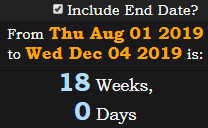 Chris Pratt is in his 14,777th day since birth: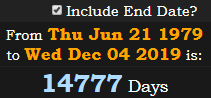 7×7×7 = 343
Momoa is most famous for playing Aquaman

---
"19" Riddle
I led the post off with the matches involving the number 91 / 910. The inverse of 91 is 19, matching today's Reduced numerology:


Momoa's full name sums to 109 with the S Exception, and Chris sums to 190 in Jewish:


The word 19 sums to 86 in English and 244 in Jewish.




There are 19 years in the Moon's Metonic cycle. 7 of those years contain a thirteenth month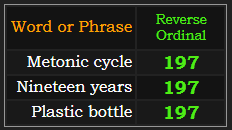 ---
Eclipse Riddle
Today is 156 days after the 2019 total solar eclipse with the end date: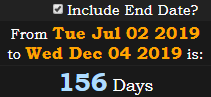 An eclipse always occurs 1, 5, or 6 lunar phases after the most recent one.


How does an eclipse riddle make any sense with this story? Of course, it's The Moon covering the sun during one.

The Moon has a 57-degree range of declination around the equator. The names Momoa and Chris both have matching English gematria with Moon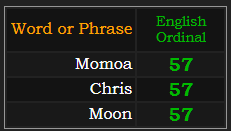 ---
Bonus
I was browsing Momoa's Wikipedia page and came across this fact:

Interesting this news story falls 11 years, 19 days after his injury: