Biden Denied Communion for Supporting Abortion

Father Morey denied Joe Biden communion over his stance on abortion rights on Sunday, a date with 76 numerology



Biden was 76 years, 11 months, 7 days old: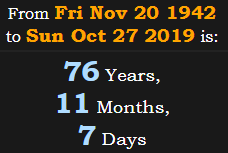 It was 117 days after the 2019 total solar eclipse:



---
Biden was denied communion by Father Robert Morey

Robert Morey sums to 64, the Ordinal value of Joe Biden


---
To be exact, Biden was 28100 days old:

281 is the 60th Prime number

---
Joe Biden was at St. Anthony Catholic Church.


829 is the 145th Prime number


The church is in South Carolina, which was the last state to see the 2017 Great American eclipse. This story occurred a span of 2 years, 2 months, 7 days later. 227 is of course a highly-significant number in relation to the eclipse code.