Brewers Defeat Mets in 18 Innings (May 4th)
On the date May 4th, written 5/4, the Brewers defeated the Mets in an 18-inning baseball game.



In the Milwaukee Brewers' 35th game of the season, the star was 35-year-old Ryan Braun, whose sixth hit of the game scored both the tying and winning runs in the bottom of the 18th. He was 168 days after his birthday and batted 6-8 in this game against the New York Mets


The game began a span of 1 month, 29 days before the next total solar eclipse: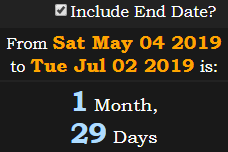 Braun got his game-winning hit off of Mets reliever Chris Flexen, who also has 57 gematria in that same cipher.

The Moon has a maximum declination of 28.5° both north and south of the ecliptic, giving it a total range of 57 degrees.

Braun's full name sums to 218, like the Hebrew gematria of Moon


The Moon's most significant cycle is the Metonic cycle. Because the game lasted past midnight, it ended on May 5th, or 5/5, which was 1 month, 27 days before the next total solar eclipse: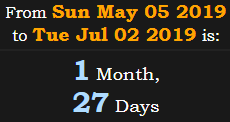 When the game began and ended, Braun was 197 days before his 36th birthday:


The Metonic cycle is 19 years long. This win was the Brewers' 19th of the '19 season.

Chris Flexen was 24 years, 44 weeks old: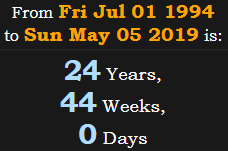 ---
Braun was born in the year '83. Both his and Flexen's full names sum to 83, again in Reverse Reduction:

The game both began and ended 8 weeks, 3 days before the next total solar eclipse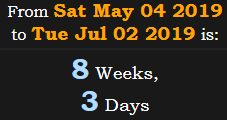 Flexen's birthday falls a span of 227 days after Braun's: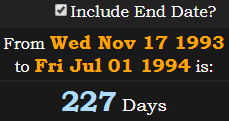 ---
So we discussed the game's losing pitcher, Chris Flexen. The Brewers' winning pitcher was Taylor Williams, whose birthday falls exactly 2803 days after Ryan Braun's:



When the game ended, Williams was exactly 10150 days old, matching the gematria of Miller Park, where the game took place: