Name of Royal Baby Revealed

Several numbers point to yesterday's shooting at a STEM School in Highlands Ranch, Colorado being a tribute to the name of the new Royal Baby.




I chose not to mention this in yesterday's post or video because there were no other connections to 393. But this is a very significant number.

In Jewish gematria, 393 is the value of Enneadecaeteris, which is the Greek word for the Metonic cycle (nineteen years). This period of 19 years syncs up almost exactly with 235 lunar phases. In the same Jewish/Latin cipher, the baby's name sums to 2305

The only name of the two shooters that has been released is Devon Erickson

In that same cipher, three hundred ninety-three sums to 1331, our ultra-significant solar eclipse number.

The only other two numbers to sum to 1331 in Jewish gematria is 133 and 331, the two numbers that make up 1331.

---
There's more that pops out with this name.

445 is the Hebrew value of total lunar eclipse

The baby is said to have been born at 5:26 am:

5/26, or May 26th, is the date of the next total lunar eclipse. The baby was born a span of exactly 2 years, 0 months, 3 weeks before that eclipse: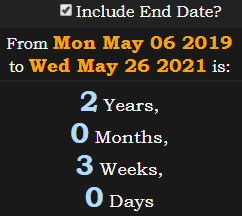 ---