San Ysidro Border Crossing Closed

Trump's campaign was largely centered around building a border wall. Today marks the most pivotal day in his Presidency regarding immigration, as a caravan of migrants has arrived, causing the military to close the border crossing

Today is Trump's 166th day since his birthday:
Trump is connected to California in gematria:


Today's date, November 26th, is written 11/26

It's the date that leaves 35 days in the year

---
This story involves the United States Border Patrol in San Ysidro, California


301 can be converted to a date – 3/01. March 1st was the date the United States I.C.E. was founded. Today is 95 days before 3/01


The United States Border Patrol was established on May 28th of 1924, making this its 95th year in operation. Today is the 183rd day since May 28th: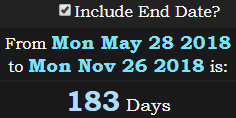 In Reduction, order out of chaos, one of Freemasonry's primary mottos, sums to 75



Today's date has Full numerology of 75

This is also ideal for a border closing at the United States border


Today also has Tiny numerology of 19




---
Without the end date included, today is 165 days after Trump's birthday:

Trump was born on the 165th day of the year:



It's the Ancient Accepted Scottish Rite of Freemasonry, headquartered in Washington, D.C., running the Federal Government.
These secret societies rule through ritual and symbolism

Today is a span of 22 months, 7 days since Trump took office: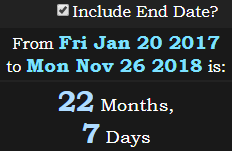 The rituals are Masonic, which sums to 223


---
Initial reports claim 69 people were arrested during the Mexico border closing: