Reality Star Lyric McHenry Dead @ 26

Lyric McHenry died on August 14th, a date most of the world writes as 14/8

It was a date with 33 numerology:

33 is a number of sacrifice. It's the age at which Jesus was crucified during an "Eclipse" = 33 (R). Not only does the name McHenry have the Mc in it…

But her name, Lyric McHenry, sums to 303



She was a star on the show EJNYC – Wiki link

McHenry died at age 26
The 26th prime number is 101
The main character of EJNYC was EJ Johnson, who was 26 years, 10 weeks, 1 day old on the date of her death: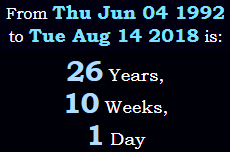 ---
It's said she was 20 weeks pregnant:


The word Kill sums to 17

The 17th triangular number is 153

The 17th prime number is 59. EJ Johnson's dad is Magic Johnson, who turned 59 on the date she died.
---
The capital letter ciphers give us some more interesting numbers:


187, the homicide code

The 19th prime number is 67


The 67th prime number is 331







Her birthday was August 6th, or 8/6
---
Headline Gematria:
Notice the double 357


McHenry was 1357 weeks old when she died…

…And was 357 days before her next birthday:

Why mention the Freemasons? There's another clue in Satanic gematria


After all, the date she was found on the sidewalk on the date leaving 139 days in the year:



In the Reverse order, we get a 118, our number of death and homicide



The headline also sums to 6900 in English Extended. The 69th prime number is 347, which is the Hebrew gematria for "Sacrifice". But check out the Jewish gematria, which matches her name in Satanic:



---
She died 9 months, 11 days after the first anniversary of the last episode of EJNYC: