Ian Happ Hits Home Run on 1st Pitch of 2018 Season
In case you were wondering if we were gonna get some real baseball action this year…sorry.
Ian Happ hit the first pitch of the 2018 season for a home run, following a season in which the most home runs in history were hit. What makes it especially comical is the commentary just before the first pitch was tossed. Watch it for yourself:
To make it even more obvious, it just so happened that Michael Cerami of BleacherNation offered to jump into Lake Michigan if this happened:
So he did.
Get ready for 2,429 more games of mockery this season.


---
So why Ian Happ? Well…this is why I don't typically decode too many sports events. There's just so many numbers. A couple things worth mentioning though:
The Marlins ended the Cubs 2003 postseason run by scoring 8 runs in the 8th inning. It was the Cubs' 88th year in Wrigley. In Back to the Future, the Cubs beat Miami to win the World Series (even though Miami did not have a baseball team back then). 88 is the number of time travel in that film.
Today is the 88th day of the year:

Measuring to Happ's next birthday: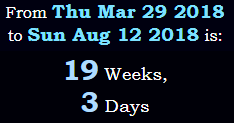 The home run came against the:

The pitch was thrown by:
Remember, it was a 108 year curse the Cubs broke in 2016.
---
Maybe worth noting – today is 229 days after Happ's birthday. That's the 50th prime number.

The 15th letter of the alphabet is a circle – it's the O, which is the mark of the Beast. Today is a span of exactly 1233 weeks after Happ's birthday, and 1233 is the 150th prime number.