Dylan Roof's Sister Morgan Roof Arrested
It's being reported that Morgan Roof, sister of Charleston Church shooter Dylann Storm Roof, was arrested for bringing a weapon to school, as well as having drugs or whatever they're making up.
There's a soft hoax code the media uses – a simple pairing of the O and the R. I commonly talk about the circle being the mark of the beat, and when paired with the letter R, 15 (O) + 18 (R) = 33, the primary numerical hoax code.
O-R are the first two letters of the color orange:

OR refers to Oregon, the 33rd state. So just look at these names:
Dylann Storm Roof
Morgan Roof
This makes news today, March 16. Measuring from this date to the Charleston Church shooting: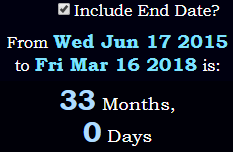 The 33rd prime number is 137. Her Snapchat or InstaTweet or whatever the hell it was sums to 1037.